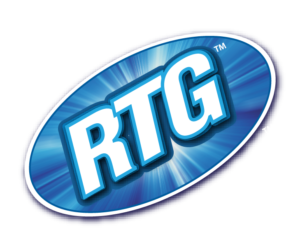 What You Need Is Always "Ready To Go"
RTG is a complete line of cleaners that is always "Ready To Go". No matter the need, our RTG line has a solution that is safe, simple and always at arm's reach. 
RTG All Purpose Cleaner & Degreaser
RTG All-Purpose Cleaner & Degreaser works great for cleaning hard non-porous surfaces, including walls, tables, equipment, and more. This formula is effective in removing dirt, grease, and stains while leaving behind a zesty lemon scent.
RTG All-Purpose Cleaner With Bleach
This All-Purpose Cleaner with Bleach is a one step scrubbing cleaner with mild bleach that works by attacking soap scum, stains caused by mold and mildew in restrooms, showers, kitchens and other areas where an added cleaning "punch" is needed. This cleaner is effective on tile, grout, chrome, stainless and glass, while leaving behind a clean and deodorized surface.
RTG Citrus Degreaser
The Citrus Degreaser is a citrus based degreaser that is best used for general cleaning and other hard surfaces. This formula will effectively remove grease, dirt, oils, and grime while leaving behind a pleasant citrus scent. 
RTG Foaming Tub & Tile Cleaner
Our Foaming Tub and Tile Cleaner is a powerful, yet mild, shower, tub, and tile cleaner developed with a high foaming formula to remove all types of soils. It eliminates soap scum, limescale, calcium, and more. Its high clinging formula allows the foam to cling to vertical surfaces for longer contact and activity on soils.
RTG Glass & Multi-Surface Cleaner
The Glass & Multi-Surface Cleaner is a streak-free cleaner that can be used on windows, glass, mirrors, tiles, and more. This glass cleaner is effective in removing smears, smudges, and other soils while leaving behind a fresh breeze scent.
RTG Grill-N-Go
 Grill-N-Go is a heat-activated formula used for grills, ovens, and hot surfaces. This formula is safe to use on aluminum and effective in removing grease and food build up without cooling the grill.
RTG Odor Neutralizer
This product eliminates all organic odors in a new way. By spraying it directly on the odor source, you can counteract and eliminate odors on carpets, bed linens, baskets, garbage containers, disposal units, toilets, ashtrays, etc. This product goes exactly where it is needed.
RTG Oven & Grill Cleaner
The Oven & Grill Cleaner is a powerful blend of detergents and surfactants that are effective in penetrating and emulsifying soils, food, and grease. This product's high foaming formula is meant to be used on ovens, grills, hoods, fryers, and more.
RTG Stainless Steel Cleaner & Polish
The Stainless Steel Cleaner & Polish is a high-gloss formula cleaner and polish that maintains a bright, clean finish on stainless equipment in kitchens, laboratories, offices, restaurants, and other institutional applications. This labor-saving "one-step" product shines as it cleans, leaving a soil resistant coating that makes future clean-ups an easy task.
RTG Sunrise Pot & Pan Detergent
Cuts grease and food soils & even baked-on deposits. Rinses-free – leaves a spot-free shine. Gentle leaves hands soft and contains emollients and skin conditioners to help skin stay smooth and young looking. Rich, stable, long-lasting suds effectively cut and suspend greasy soils to prevent redepositing. Economical and effective. Industrial strength formula is an equally effective detergent for dishes, glassware, fine china, silver and flatware, pots, pans, and utensils.
Send us a message and we will quickly respond to any questions you have. Want to speak to someone immediatley? Call us: 877-396-6634