Solutions For A Cleaner & Better Environment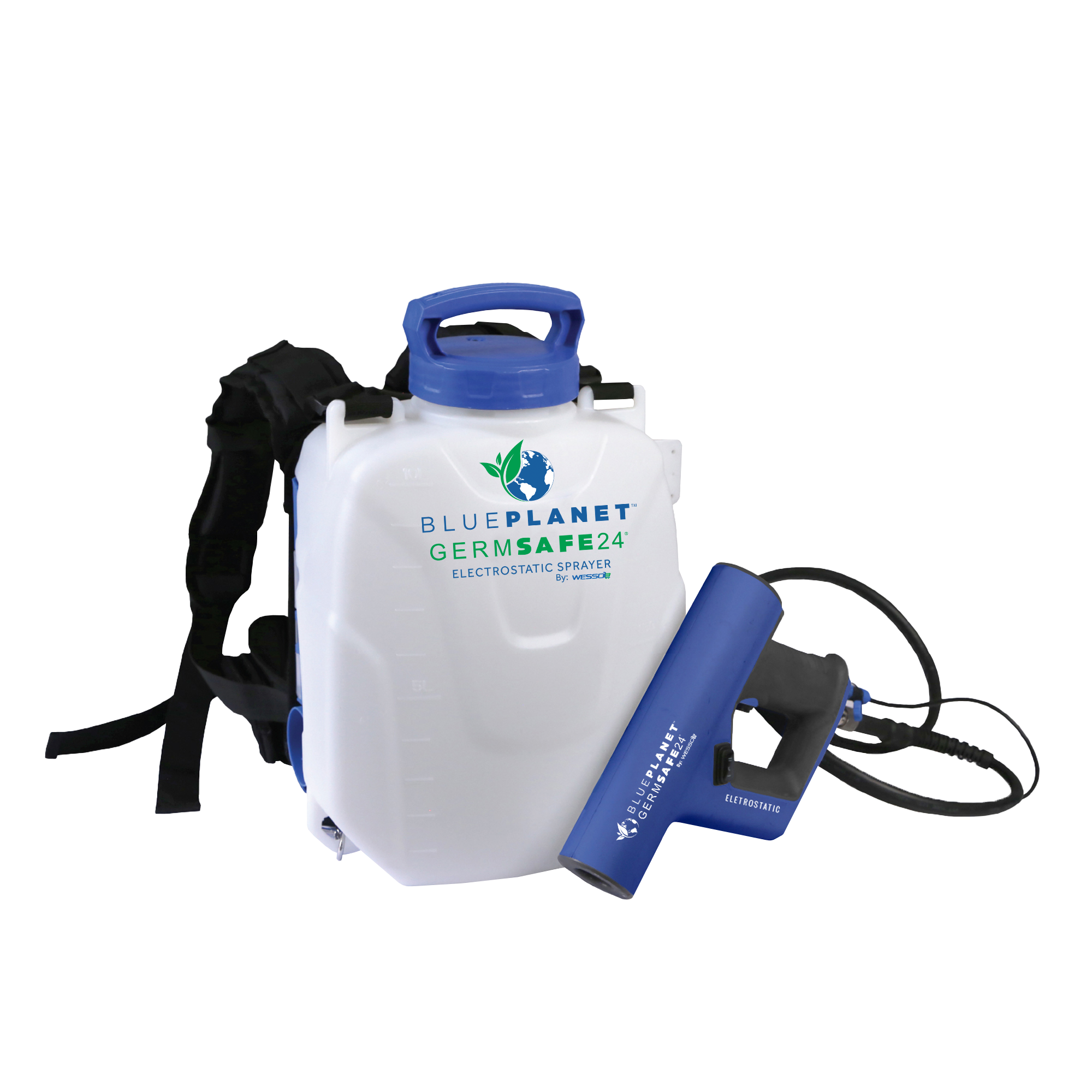 Blue Planet Products Contain…
Persistent Bioaccumulative or Toxic Chemicals

0%

0%

Phosphates

0%

0%

Ozone Depleting Compounds

0%

0%

Volatile Organic Compounds (VOC's)

0%

0%

SARA 313 Reporatable Ingredients

0%

0%

Safer Ingredients That Lower The Risk To Children & Adults

100%

100%
Blue Planet Hospital Grade Disinfectant
General Information
Blue Planet Disinfectant is a broad-spectrum hospital-grade bactericidal, virucidal, and fungicidal disinfectant and hard, non-porous food contact surface sanitizer made from simple ingredients. Blue Planet Disinfectant is made with Stabilized Hypochlorous acid and breaks down into simple salt and water after use, leaving no chemical residue. 
Active Ingredient - Hypochlorous Acid
Stabilized Hypochlorous Acid (S-HOCL) is a fast-acting and revolutionary disinfection technology that is Hospital Grade, yet contains no harsh chemicals. This patented proprietary manufacturing process achieves the perfect stability so Hypochlorous can remain in a bottle for 18 months.
18 Month Shelf Life
Patented proprietary manufacturing process achieves the perfect stability so Hypochlorous can remain in a bottle for 18 months
Breaks Down Into Saline
Breaks down into simple salt and water after use, leaving no chemical residue.
No Harsh Chemicals
Contains no alcohol, bleach, ammonia, dyes, or added fragrance. Produces no harsh fumes
Hospital Grade
Broad spectrum hospital grade disinfectant that meets AOAC germicidal standards.
Food Contact Surface Sanitizer
Sanitize hard, non-porous food contact surfaces gently with no wiping or rinsing necessary.
EPA List N
Hypochlorous Acid is on the EPA's "List N" expected to eliminate SARS-CoV-2, the virus that causes coronavirus.
Blue Planet Germsafe24 Electrostatic Sprayer
High Capacity – Up to 40,000 Square Foot Coverage Per Tank
Lightweight Design – 12.5 lbs
Interchangeable Micron Misting Nozzles
Particle Size Adjustable to 40/80/120 Microns
Up to 6 Hour Run Time
18v Lithium-Ion Rechargeable Battery
Great for Disinfecting, Sanitizing, Odor Control & More
Turbo Boost Fan Extends Reach for Complete Coverage
Up to 8 ft Spray Distance
Solution Charged in Gun to Reduce Shock Due to Spills
Blue Planet Foaming Hand Soap
This environmentally friendly hand cleaner provides state-of-the-art performance in cleaning. An exclusive blend of naturally dirived surfactants offers effective, yet gentle, cleaning action. Use this product with complete confidence whenever complete cleaning is desired.
Blue Planet Glass Cleaner
This concentrated glass and hard surface cleaner dilutes with a minimum of 8 parts cold water for a ready-to-use glass cleaner.  It is an advanced formula containing deionized, softened water and special cleaners that "wick" into the cleaning cloth and evaporate completely for streak-free cleaning. Removes fingerprints, smoke film, grease, and other soils.
Blue Planet Hard Surface Cleaner
This truly ALL PURPOSE cleaner offers the most effective economical cleaning power currently available. It can be used on any water washable surface, thus eliminating the use of several products. Concentrated for economy, this effective product performs in the hardest water conditions without leaving a film, even at low temperatures. This power-packed formula is non-toxic, non-corrosive, nonflammable, and biodegradable for safety and ease of use.
Blue Planet HIOX All Purpose Cleaner
This superior cleaner and degreaser is for use on all types of hard surfaces. This environmentally friendly formula combines the power of peroxide with natural range solvents, special detergents, penetrating and soil lifting agents, as well as special ingredients to prevent oils from redepositing on surfaces for rinse-free cleaning. This product is ideal for one-pass cleaning on all types of countertops, appliances, oven hoods, stainless steel, Formica®, plastic, fiberglass, rubber, and glass. It is easy to use – just spray on and wipe away: black heel marks on floors and baseboards, lipstick, pencil marks, ink, grease, oily finger smudges, food soils, and many other problem soils.
Blue Planet Liquid Laundry
Blue Planet Liquid Laundry Detergent premium non-ionic liquid detergent is fortified with eco-friendly, sustainable source surfactants, water conditioning agents and enzymes for superior results on all linens.
Delivers excellent results on fabrics soiled with cosmetics, suntan, and massage oils & lotions, or other greasy soils. Compatible with Intercon's other laundry products and High-Efficiency washers, for a responsible and effective approach to linen maintenance and management.
Blue Planet Liquid Rinse
This concentrated rinse additive causes water to "sheet off" dishes, glassware, etc. in machine dishwashing operations. Provides rapid drying to eliminate water spots. Performs under a wide range of water hardness to prevent deposition of solids. Can be used with all types of dispensing equipment.
Blue Planet Pot-N-Pan
This effective concentrated economy hand dish detergent produces rich suds that quickly cut through food soils. Using special suspending agents, it keeps grease and soils from redepositing on dishes.
Blue Planet Disinfectant Questions & Answers
Does Blue Planet Contain Any Harmful Chemicals?
Blue Planet Hospital Grade Disinfectant contains no alcohol, bleach, ammonia, dyes, or added fragrance. It's safety has been recognized by the Child Safety Network and given the CSN Seal of Approval.
What Does "Hospital Grade" Mean?
Hospital Grade disinfectants are broad spectrum disinfectants that must meet the AOAC germicidal and OSHA bloodborne pathogen standards.broad-spectrum
Does Blue Planet Disinfectant Have To Be Wiped Down After Applying?
Blue Planet does not have to be wiped away after applying. It breaks down into saline and leaves behind no residue.
Will Blue Planet Disinfectant Kill Coronavirus?
Blue Planet Disinfectant is an EPA List N registered product. Which means that it has demonstrated effectiveness against viruses similar to SARS-Cov-2 on hard, non-porous surfaces.
How Long Is Blue Planet Disinfectant Shelf Stable?
Thanks to a patented and proprietary manufacturing process, Blue Planet Disinfectant is shelf-stable for 18 months. An unparalleled shelf life for S-HOCL based disinfectants.
Send us a message and we will quickly respond to any questions you have. Want to speak to someone immediatley?
Call us: 877-396-6634